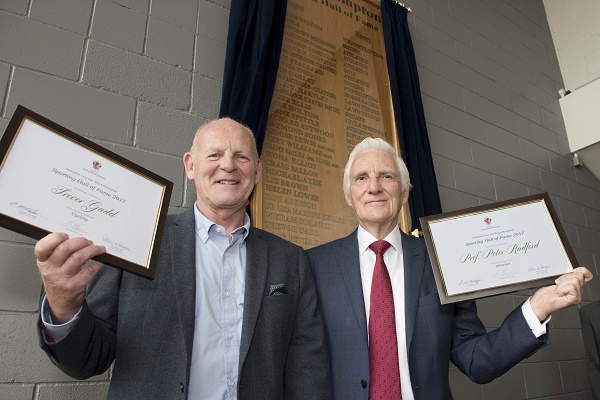 In Summary
General
|
27th September 2017
Two more stars were inducted into Wolverhampton's Sporting Hall of Fame at WV Active Aldersley – the same stadium where they first developed their talents – on Saturday 23 September
This is a featured news article.
In Detail
Trevor Gadd and Professor Peter Radford represented Wolverhampton with distinction in cycling and athletics respectively, appearing for their country at the Olympics and Commonwealth Games.
They are the latest big names to be included in Wolverhampton's Sporting Hall of Fame, launched by the City of Wolverhampton Council and the Wolverhampton City Sports Advisory Council in 1999 to recognise and celebrate the achievements of sportsmen and women who have represented Wolverhampton on an international stage.
Peter spent his early years training at what was then Aldersley Stadium where he was coached by Wolverhampton and Bilston Athletics Club.
He went on to set numerous world records in 50m, 100m and 200m races and won medals while representing his country at the Olympics and Commonwealth Games. He achieved this despite having been in a wheelchair as a child due to a serious illness.
Peter said: "This is very special for me, because I am coming back to a place where I learned my trade as a 16-year-old.
"I heard they were building this stadium so I came down to suss it out and found myself running on the foundations and then, as they continued to build it, the next layer and the next layer until eventually the full track was there.
"I almost had squatter's rights; the track had grown up under my feet and I felt it was mine from the very beginning, so it is wonderful to come back and have my name on the Sporting Hall of Fame honours board with so many other famous people."
Trevor was a member of Wolverhampton Wheelers Cycling Club and began competitive racing in 1975 when he won his first bronze medal in the British National Championships.
Representing Great Britain and England at the Olympics and Commonwealth Games, he went on to dominate track cycling in the 1970s.
He said: "This is truly a great honour and a reward for all the hard work when I was younger. I hope it is an inspiration for young people."
Chair of Wolverhampton's Sports Advisory Council, Peter Holmes MBE, said: "We were delighted to induct two more inspirational Wulfrunians into our Sporting Hall of Fame.
"Trevor and Peter are both individuals who have performed with great success on a world stage and have been true ambassadors of everything that is good about the City of Wolverhampton."
Mayor of Wolverhampton Councillor Elias Mattu said: "The City of Wolverhampton has a long history of producing top level sportspeople and I would like to congratulate Trevor and Peter on their successes and welcome them into Wolverhampton's Sporting Hall of Fame."
The Sporting Hall of Fame's books and honours boards are displayed at WV Active Aldersley. Other members include athlete Denise Lewis, racing driver Richard Atwood and Wolverhampton Wanderers legends Bert Williams and Billy Wright.
To find out more about WV Active Aldersley, and the City of Wolverhampton Council's other leisure centres – WV Active Central and WV Active Bilston-Bert Williams, please visit www.wvactive.com
Pictured: Two of the latest sporting heroes inducted into Wolverhampton's Sporting Hall of Fame, Trevor Gadd, Cycling, and Professor Peter Radford, Athletics.