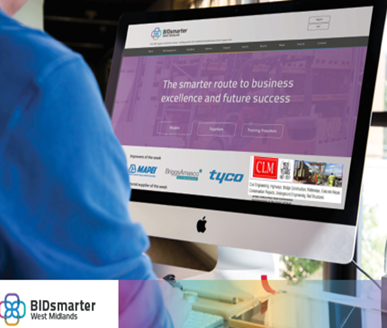 In Summary
General
|
19th March 2018
The Midland Metro Alliance, in partnership with West Midlands Combined Authority and the Black Country Growth Hub, has been shortlisted as a finalist in the Innovation category at next month's West Midlands Constructing Excellence Awards.
This is a featured news article.
In Detail
After attracting more than 200 entries from some of the biggest firms in UK construction, the awards will see business leaders, construction peers and innovators from across the sector gather at the
International Convention Centre in Birmingham to celebrate the very best industry projects.
The collaboration of Midland Metro Alliance, the West Midlands Combined Authority and the Black Country Growth Hub on the BIDsmarter app has been recognised for its innovative way of working to develop the region's small and medium enterprises (SMEs).
BIDsmarter is a free business improvement and self-assessment app, helping local SMEs gain the right combination of business skills, tools and experience to unlock their potential to work on the Midland Metro tram expansion project.
BIDsmarter impressed the judging panel who said: "The development and future use of cloud-based smartphone applications to virtually coach supply chain excellence and manage risk on a real-life rail transportation project is truly pioneering and a potential catalyst to change the way our industry improves and manages supply chains".
What is unique about BIDsmarter is that no other region in the UK is doing as much to innovate and increase the competitiveness of its indigenous SME supply chain through a digital platform that upskills, supports, coaches work-winning and digital technology skills of suppliers."
Paula Gray, Head of Procurement for the Midland Metro Alliance, said: "We are very proud that our constant focus on supporting the SMEs of the West Midlands region is being recognised by our industry peers. It is a key objective of the Midland Metro Alliance, the West Midlands Combined Authority and the Black Country Growth Hub to ensure that local businesses benefit not only from increased turnover, but through access to additional business support like this app, resulting in future employment opportunities to local people. We are very proud to be at the forefront of this initiative and look forward to delivering tangible benefits to businesses for years to come."
Andy Cox, Board Member and Growth Hub Champion for the Black Country Local Enterprise Partnership, said: "The West Midlands is leading the way in adopting digital technologies, providing coaching for improving work-winning skills, and demonstrating innovation in managing whole supply chains."
It has been a week of award nominations for the Midland Metro Alliance who have also been shortlisted in the Supply Chain Excellence and Best Use of Technology categories of the annual Construction News Awards.
The winners of the West Midlands Constructing Excellence Awards 2018 will be announced on Friday 13 April 2018 and the Construction News Awards will be held on Thursday 12 July 2018.
Tickets will be sold on a first come, first serve basis and none have been reserved for finalists – so book soon to avoid disappointment: http://west.celebratingconstructionawards.org/
The Midland Metro Alliance is a team of planning, design and construction specialists building a five new tram extensions over the coming decade on behalf of the West Midlands Combined Authority (WMCA). The alliance consists of the WMCA, which owns the Midland Metro; a consortium of design experts from Egis, Tony Gee and Pell Frischmann; and rail construction specialists Colas Rail – with Colas' sub-alliance partners Colas Limited, Barhale, Bouygues UK and Auctus Management Group.
Meet the MMA and partners at FinditintheBlackCountry's upcoming supplier event on Tuesday 17 April 2018. BOOK NOW