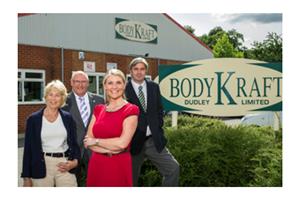 In Summary
General
|
22nd August 2013
A thriving family-run accident repair firm is celebrating 15 years of success across the Black Country. BodyKraft, which is directed by owners Mike Pugh and Lorna Freeman, has gone from strength to strength since it was formed in 1998 from its first premises on Pensnett Trading Estate
In Detail
A thriving family-run accident repair firm is celebrating 15 years of success across the Black Country.
BodyKraft, which is directed by owners Mike Pugh and Lorna Freeman, has gone from strength to strength since it was formed in 1998 from its first premises on Pensnett Trading Estate.
Fifteen years on and the independent company, which has become an accredited repairer for major car manufacturers and both West Midlands and West Mercia police forces, has grown into a booming business and employer with sites in Dudley, Wolverhampton and Merry Hill and a 70-strong team of staff which includes mechanics, painters and valeters.
Helping to run the specialist firm is Mr Pugh's daughter Dawn Owen and Mrs Freeman's son Tim, manager of the Merry Hill site, who are both injecting new ideas into the business as they plan for the next 15 years of growth.
Managing director Mike Pugh said, "Since setting up the company in 1998, it has grown steadily from just one site to three sites operating in the Black Country, which is a great achievement – especially in recent years as we've managed to win through in the toughest economic climate in recent memory.
"That success has partly been down to the good reputation we have built here at BodyKraft over the years. We are known for our focus on customer care and specialist knowledge.
"But on the other side of the coin, the business has thrived because of our long-term, loyal workforce which we've tried to hand-pick from across the Black Country and the wider West Midlands. Their professionalism, talent and willingness to embrace the latest technology and learn new skills has helped us to thrive."
Mr Pugh, who has over 40 years in the accident repair sector, said that the firm's management team is currently working on a number of 'exciting' ideas to expand into new specialisms within the next 12 months. He added that he'd like to make their 75-strong fleet of cars and commercial vehicles 'work harder' for the business.
He added, "As a team, we have backed ourselves to win over the past 15 years and worked tirelessly to cement our hard-earned reputation.
"The next challenge is to keep that pace going for the next 15 years by not only concentrating on our core accident repair business, but doing things differently, innovating and investing into the firm's future."
Much of BodyKraft's work involves full-on accident and business insurance repairs together with paint and dent removals. Over the years they have become trusted repair specialists for global car manufacturers including Vauxhall, Chevrolet, Hyundai, Kia, Citroen and Suzuki.