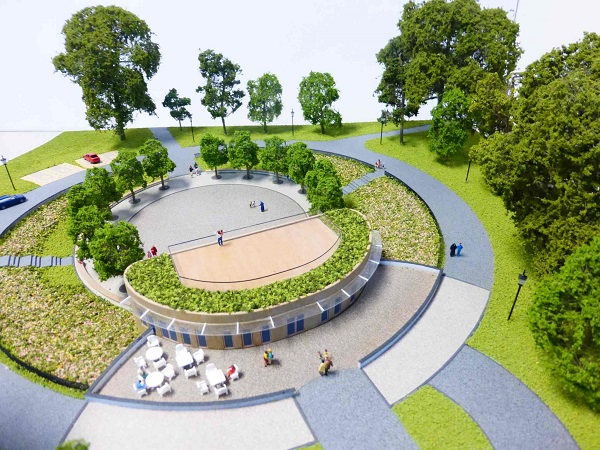 In Summary
Work is now under way on the £5.2 million restoration of West Smethwick Park – and there are lots of fun activities lined up for the school summer holidays too
In Detail
The first phase of the project is restoring historical features including the Grade II listed James Chance Memorial, the John Chance fountain and airmen's memorial, as well as both entrance gates on West Park Road and Victoria Road.
Building work, including creating a brand new two-storey pavilion, is due to start early next year. The pavilion in the centre of the park will replace the original refreshment rooms that were demolished back in the 1980s.
The work is being funded by a £4.5 million award from the Heritage Lottery Fund and Big Lottery Fund Parks for People programme and around £600,000 from Sandwell Council.
Children and young people will have plenty to do at the park during the summer holidays thanks to sports activities throughout the week run by Sandwell Leisure Trust and Go Play sessions on Mondays run by The Albion Foundation.
Sandwell Leisure Trust has already started a Wednesday jogging club at the park, with boot camp and 'dog and jog' sessions set to launch in September.
Lynda Batemen, chair of the Board for Sandwell Leisure Trust, added: "We are delighted to be working with all our partners on another exciting development for Sandwell. We look forward to managing what will be a fantastic facility for the whole community to enjoy located in the heart West Smethwick Park."
The restoration of West Smethwick Park was officially launched at a community event in May. Work on the pavilion is expected to be completed by 2020 and the project on the wider park will continue to 2022/23.

Go to www.sandwell.gov.uk/westsmethwickpark for details and links to activities.
If you would like to get involved in the volunteer programme at the park, which starts on 20 September, please email WSP_Project@sandwell.gov.uk to register your interest.
Photo: Partners involved in the West Smethwick Park restoration project celebrate work getting under way. Pictured by the Chance memorial in the park.