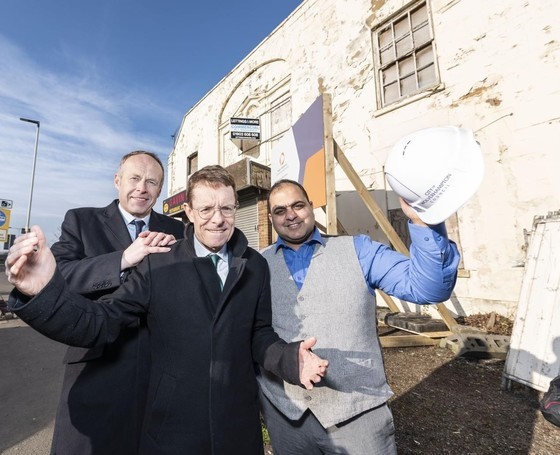 In Summary
General
|
7th February 2020
The derelict Pipe Hall in Bilston town centre is set to be redeveloped after being purchased by the West Midlands Combined Authority (WMCA).
In Detail
The WMCA has worked closely with City of Wolverhampton Council to buy the Pipe Hall site from the current owner - and the deal has the potential to help unlock millions of pounds of investment into the area.
For two centuries the hall played a prominent role in the life of Bilston town centre serving as a family home, a school and later a hotel and pub hosting wedding receptions and other events for the local community.
But since the last occupier - Gavin's Sports Bar – closed its doors a decade ago the subsequent owners have not been able to deliver a viable scheme and the building has fallen into disrepair.
Its purchase paves the way for a redevelopment of the site and is part of a major campaign by the WMCA, working with local authorities, to redefine town centres and high streets by providing support and funding for regeneration schemes.
Mayor of the West Midlands Andy Street, the former managing director of retailer John Lewis, said: "Bilston has such a lot to offer, and its brilliant market is a great example of that.
"But like many town centres its retail sector has struggled in recent years as people's shopping habits have changed. Businesses close and their buildings stand empty and go to wrack and ruin.
"But the WMCA is determined to help revive town centres, and I am delighted that we have been able to purchase Pipe Hall to help the redevelopment of Bilston town centre.
"The future of the high street will not just be about retail it will also be about public services, small businesses, community activities and homes.
"The people of Wolverhampton want to see action, and that is exactly what the WMCA and its town centre taskforce is pressing ahead and doing."
Pipe Hall, which is located in Hall Street, dates back to 1810. The original building was built for the Pipe family but in 1869 it became Pipe Hall Academy, a private girl's school. Years later it was converted into a hotel and pub and was a popular venue for celebrations and other events.
The building, which will undergo urgent remedial works, sits on a half acre plot and occupies a prime location next to the town's Metro tram stop, just a few minutes' walk from the high street and the town's famous market.
To further support high streets the Mayor set up the independent Regional Town Centres Taskforce last year. A combined public and private sector body comprising prominent people from the worlds of retail, development, finance, housing, education and Government, the Taskforce is working with local councils on moving forward redevelopment plans for town centres across the West Midlands.
The WMCA and the Taskforce are initially focussing on five town centres that have been put forward by their local councils for additional support in accelerating their regeneration plans. WMCA funding is being used to unlock land for regeneration in Bilston, Dudley, Bordesley Green in Birmingham, Walsall and West Bromwich town centres. Last week the WMCA announced a £724,000 funding deal to demolish the derelict Cavendish House office block in Dudley and clear the site ready for the wider £82 million Portersfield development featuring retail, leisure and housing.