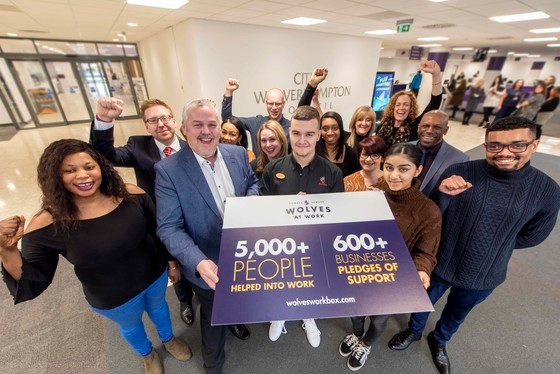 In Summary
General
|
13th February 2020
Wolves at Work has been extended into a 4th year as it celebrates reaching another major milestone.
In Detail
The City of Wolverhampton Council and Department for Work and Pensions (DWP) employment programme has now helped more than 5,000 local people into work since March 2017.
Around 45% of those gaining employment are aged 18 to 29.
More than 600 businesses have also pledged their support to Wolves at Work and, as well as providing employment opportunities, have welcomed 800 people into Sector Based Work Academies, and 397 into work experience.
Wolves at Work also offers support to care leavers, former military personnel and ex offenders.
City of Wolverhampton Council Leader, Councillor Ian Brookfield, said: "Wolves at Work is making a major impact in terms of delivering jobs for individuals – and making a difference to their families.
"The programme is making a major impact in terms of delivering jobs for local people and we are very proud of what it is achieving.
"There is £4.4 billion of investment on site or in the pipeline in the City of Wolverhampton and it is important local people benefit from the jobs and economic growth being generated.
"We knew there were lots of people out there who were motivated and wanted to work but finding places for them and ensuring they had the support once in work is absolutely critical to the success of the project.
"It is also great to see the diversity of the people we are helping. There are lots of people from different backgrounds in different businesses – everything from chocolate making to building, from public administration to health and social care.
"A huge range of jobs have come up for people and a wide range of people have gone into those jobs."