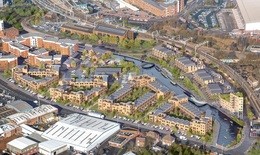 In Summary
General
|
27th March 2017
A delegation from Wolverhampton recently made their way to Cannes, where they showcased opportunities within the city with the world-leading property market, MIPIM.
This is a featured news article.
In Detail
Business professionals from the City of Wolverhampton made their mark in Cannes, when they took part in this year's MIPIM forum at the Palais des Festivals.
The delegation shared details of opportunities around the Interchange, and Canalside and Westside areas, which were well received by a host of global investors and developers, who will hopefully generate further interest in the city.
Cabinet Member for City Economy, Councillor John Reynolds, who was part of Wolverhampton's MIPIM delegation, says he's proud of the wealth of investment opportunities the city has to offer. For more details on his thoughts about what's planned for the city, check out this video.
Established in 1990, MIPIM gathers the most influential international property players from the office, residential, retail, healthcare, sport, logistics and industrial sectors for four days of networking, learning and transaction.
Striking new view of £55 million Westside development gets international unveiling
A stunning artist's impression of how the Urban and Civic's £55 million Westside development will look, has been unveiled by the City of Wolverhampton Council at international property market forum, MIPIM.
Enabling works are currently underway on the leisure-led mixed use scheme at the heart of the city centre, and strong demand from occupiers means construction on the first phase remains on track to start in early 2018.
Alongside the artist's impression, the council showcased a 100-plus bed opportunity for a hotel investor to be part of the scheme, which sits 6.4 acres across on three adjacent parcels of land.
Phase one – completed by early 2020
This phase will include the construction of a multiplex 12-screen cinema, 50,000 square feet of additional leisure space, new restaurants covering 40,000 square feet and a multi-storey car park.
This aspect of the development will take shape on land between Penn Road Island and Salop Street, including the current School Street and Peel Street car parks and the area around Market Square.
Phase two – completed in 2022
More than 300 new city centre homes and 50,000 square feet of retail and leisure space will be created. Phase two will incorporate parts of land between Salop Street and Darlington Street, including the Fold Street car park.