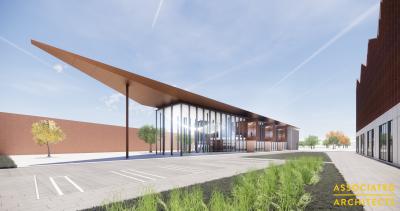 In Summary
A new national centre for construction excellence will be built in the City of Wolverhampton.
In Detail
The West Midlands Combined Authority has agreed to establish the National Centre for Construction and Development Excellence in the heart of the Black Country.
It is hoped the centre, which will be based at the University of Wolverhampton's Springfield Campus and will incorporate existing sites such as the West Midlands Construction University Technical College and the Elite Centre for Manufacturing Skills Hub, will propel the Black Country to become the world leader in state of the art construction.
The private sector has already indicated its support for the proposal, which will be Europe's largest specialist construction and built environment hub.
Mr Street, the former managing director of retail giant John Lewis, wants to take advantage of the disused Brownfield and former industrial sites across the Black Country.
It is planned that students and workers will train at the Springfield Campus, which in time will offer construction training for 14 year olds through to working professionals, before going out to the disused Brownfield sites across the region and regenerating them using their newly-learned state of the art techniques. These new skills will range from drone surveying to robotic construction of homes.
The mayor said: "The Black Country and its coal was at the forefront of the industrial revolution in the 1800s. Now, in the 21st century, it is time the region reclaimed its place as a world leader in construction.
"In establishing this centre, which will focus around Wolverhampton's Springfield Campus, students will be able to learn state of the art construction techniques and apply them to derelict brownfield sites across the region.
"By regenerating run down former industrial land using brand new skills and techniques, our workers will become the envy of the world. Soon our experts from across the Black Country will be in demand in China and Dubai, remediating polluted sites and building skyscrapers."
Parts of the national centre are already in place, with the University of Wolverhampton well underway with its plans to revamp Springfield Brewery. The National Brownfield Institute, which was first unveiled last year, will form part of the campus along with the School of Architecture and Built Environment. Now the West Midlands Combined Authority board, which has £200 million to spend on remediating brownfield sites, has agreed establishing this new centre is a top priority for the future.
At its meeting on Friday 24 May 2019, members from across both the Conservatives and Labour agreed to set up a taskforce to see the project through. The first aim of this taskforce will be to evaluate the Springfield campus and work out what other facilities are needed to turn it into a national centre of excellence.