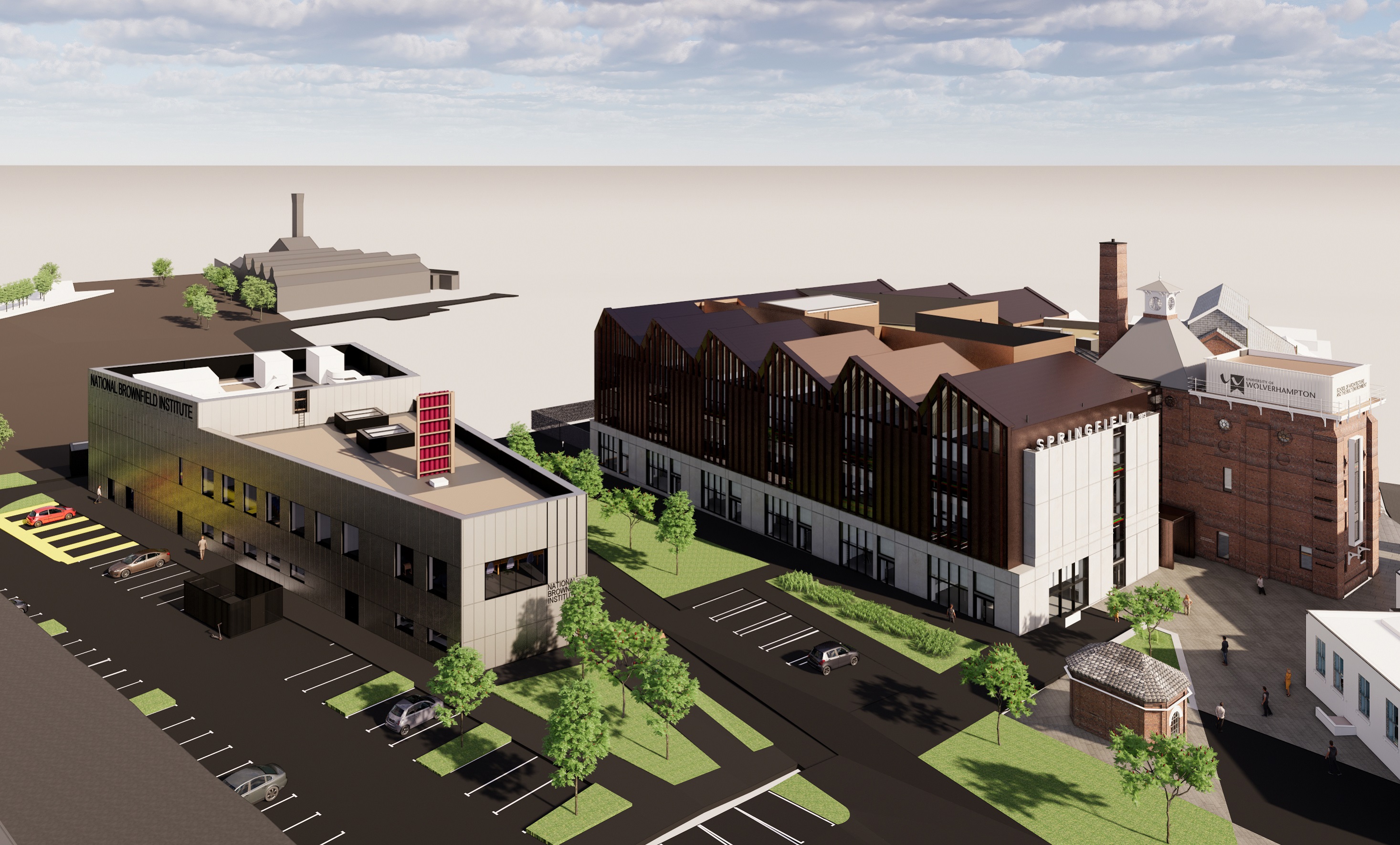 In Summary
General
|
11th December 2020
The building of a new £17.5million National Brownfield Institute (NBI) in Wolverhampton will start in the New Year after it today (Friday) received planning approval to be constructed on the University of Wolverhampton's Springfield Campus.
In Detail
The NBI will be a world-class institute that provides the facility to develop modern methods of building through innovation and partnership with the construction industry.
Built on the University of Wolverhampton's £120million Springfield Campus, the NBI will focus on the practical application of future brownfield regeneration through the work of research teams, leading policy development and commercial services.
The scheme will receive £14.9million of funding from the Government's Get Building Fund for the West Midlands. City of Wolverhampton Council worked closely with the Black Country LEP and West Midlands Combined Authority to secure the funding. A request for the remainder of the funding required forms part of the city's bid to the Government's Towns Fund.
The NBI will secure the City of Wolverhampton's position as a leader internationally in sustainable construction, circular economy and brownfield development and will deliver new skills, jobs and opportunities for local people in the city, which has been hit hard by the pandemic.
Councillor Stephen Simkins, City of Wolverhampton Council Cabinet Member for City Economy, said: "This is an exciting moment as it means the construction of the National Brownfield Institute can start in the New Year.
"It is yet another sign of the confidence being shown in Wolverhampton as a place to invest and live, as our regeneration plans change our city and relight it despite the huge challenges the Covid-19 pandemic has thrown at us.
"We have seen the University's Springfield Campus blossom into the reality of a European-leading Built Environment education campus.
"The addition of the National Brownfield Institute will make Wolverhampton a world leader in construction, regeneration and built environment, offering teaching and skills development, cutting edge research and innovation, and enterprise and business engagement through multi-sector partnerships.
"Most importantly it will deliver new skills, jobs and opportunities for local people in the city."
The 12-acre Springfield Campus is already home to the Thomas Telford University Technical College, Elite Centre for Manufacturing Skills and the recently opened School of Architecture and Built Environment. These facilities combined with the NBI will lay the foundation for the delivery of a National Centre for Sustainable Construction and Circular Economy, which will focus on sustainability and the climate change emergency.
Tom Westley DL, Chair of the Black Country LEP Board, said: "This is great news for both Wolverhampton and the West Midlands, a real boost to start the New Year. Thanks to investment from Government, and the hard work of all our project partners, the National Brownfield Institute promises to be a world-class facility.
"The Black Country LEP are delighted to support projects such as these which are making a real positive impact on the local economy, creating jobs and supporting skills development, as our region looks to recover from the impact of the pandemic."