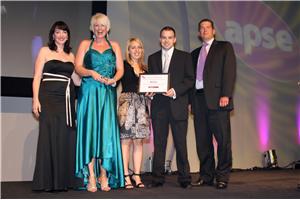 In Summary
Members of the finditinsandwell team have returned from the APSE awards in Cardiff with a trophy for 'Best information and communication technology initiative'. And Sandwell Homes came back victorious too.
In Detail
Members of the finditinsandwell team have returned home triumphant from the APSE (Association of Public Service Excellence) awards ceremony in Cardiff on Thursday 10 September, having scooped the prize for 'Best information and communication technology initiative'.


The prestigious awards are held annually to celebrate innovative local authorities who demonstrate new ideas and best practice, improving the level of service they can give to communities. This year, the ceremony was held at Cardiff International Arena and hosted by Sky News presenter Mai Davies. There were more than 400 submissions.


Sandwell Metropolitan Borough Council was shortlisted for further APSE awards:

* 'Best housing and regeneration initiative' for the
Tibbington Estate Safer Stronger Communities Fund


* 'Public / private partnership working' for the Sandwell Decent Homes Partnership (a partnership between Sandwell Homes, Taylor Woodrow, Lovell Partnerships, Wates Living Space, Connaught Partnerships, Sandwell Council, Urban Design, Rider Levett Bucknall and Thomas Vale Construction)

* 'Best environmental initiative' for
The Big Spring Clean
.


Meanwhile, Sandwell Homes was shortlisted for – and won – 'Best service team: social care' for its tenancy support services.


Being shortlisted in so many categories made Sandwell Council a contender for 'Overall council of the year in service delivery' - although we were beaten to that award by the council for the City and County of Swansea.


finditinsandwell's trophy was collected by Julie Dixon of Sandwell Council, Ash Payne of IceBlue Marketing & Design and Marie Kreft from Good As Gold Writing Services.


Winning the prize was a joint effort between the three organisations, since IceBlue built and developed the website in partnership with Sandwell Council, and Good As Gold supplies the editorial for our news and events pages, and fortnightly email bulletins.


But not everyone from the finditinsandwell team could get to Cardiff for their moment in the spotlight, and Julie, Ash and Marie were quick to point out that the award was due to the hard work of many people.


"We're so pleased that Sandwell Council is being held up by APSE as an example of how local authorities should aim to boost their local economies – but we have only got this far because of our fantastic colleagues here at the council, because of the input of IceBlue and Good As Gold, and because so many Sandwell businesses have really taken finditinsandwell to their hearts and are using the technology in the way it's intended," said Julie.


"It was a brilliant night in Cardiff and we hope this award will raise our profile sufficiently to get councils across the UK adopting the finditinsandwell format and supporting their local businesses."


Visit the APSE website
.