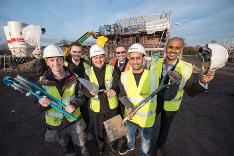 In Summary
The City of Wolverhampton Council's Fast Track into Construction programme has paid off for three trainees who've landed themselves jobs with T Costello and Choice Plumping.
This is a featured news article.
In Detail
Three unemployed Wolverhampton residents have secured themselves jobs in the construction industry after completing the City of Wolverhampton Council's Fast Track into Construction programme.
Organised by the council in partnership with the City of Wolverhampton College, Wolverhampton Homes' Employability Team, the Department for Work and Pensions and Jobchange, the course is designed to provide people with practical construction site experience.
The latest programme saw construction company, Kier, provide work placements on three of its sites and guarantee job interviews for everybody who attended the course.
And as a result of taking part in the latest programme, Mitchell Evans, Callum Balchin and Manjit Singh, have all secured themselves jobs with sub-contractors, T Costello and Choice Plumping.
The trainees completed and gained a number of qualifications, including Level 1 in Multi Skills, Level 1 Health and Safety in the Construction Environment, Construction Skills Certification Scheme (CSCS card), asbestos awareness and manual handling.
Unemployed residents who are interested in finding out more about the next course, which is being run in partnership with Speller Metcalfe and will involve work experience at the Future Space project, should contact Manjit Cheema on 07717 733051 or Simon Hamilton on 07919 626210, or email Manjit.cheema@wolverhampton.gov.uk or Simon.hamilton@wolverhampton.gov.uk.