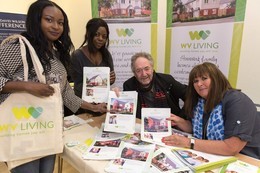 In Summary
General
|
8th January 2018
City of Wolverhampton is holding its second Housing Fair to help get home seekers into great new homes in 2018.
In Detail
Exhibitors are now being invited to book their place at the event on Sunday, March 18, from 11am to 3.30pm, at Wolverhampton Art Gallery.
You will have the opportunity to meet new customers, achieve sales, position your brand and products at the forefront of your target audiences' minds, and establish or consolidate your place within the City of Wolverhampton.
As well as benefiting from wide promotion of the event to an audience of over 70,000, including social media and digital subscribers, there is an opportunity to showcase to an anticipated audience of over 500 visitors on the day.
Book your place for just £100 by phoning Chris Elgerton on 01902 551345 or email Housing.Fair@wolverhampton.gov.uk.