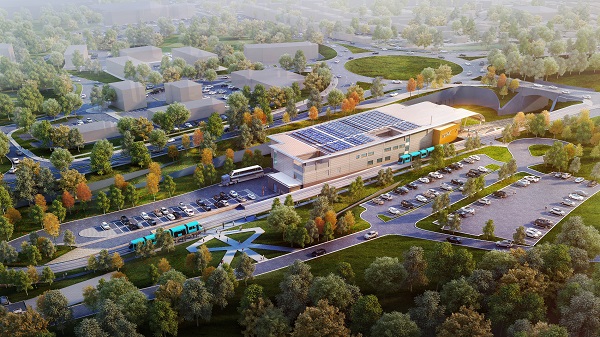 In Summary
General
|
21st February 2020
Invest Dudley will be showcasing a range of regeneration projects at March's property and construction showcase in France
In Detail
Real estate professionals from across the globe gather each year in March at MIPIM (Marché International des Professionnels de L'immobilier) – a leading international property exhibition and construction event in France, to showcase opportunities for investment and development.
Invest Dudley will be showcasing a range of regeneration projects in the area that will appeal to high-level investors, developers and companies, ahead of a significant announcement at the main event on 12 March 2020.
Projects of interest will include:
£82m 'Portersfield' mixed use retail, leisure and residential development with up to 400 apartments including student accommodation and the potential to include shops, restaurants, bars and offices.
£100m revitalisation programme of Brierley Hill, set to deliver up to 800 new residential units and 14.7 hectares of improved brownfield land.
52,000m commercial expansion of DY5 Enterprise Zone (which spans a total of 70 hectares) featuring mixed-use office space, industrial and residential opportunities.
1,000-home Urban Garden City development of Lye – part of a wider £6 billion Black Country development covering 1,500 hectares - destined to be the biggest housing scheme since World War Two.
£9m Autonomous Vehicle Initiative, a research facility for the testing and development of intelligent and autonomous vehicles.
£13.39m expansion of Dudley Zoo, Castle and Castle Hill Woodland, offering eight key regeneration projects including Dudley Castle and a visitor and education centre.
£40m phase two development of the Black Country and Marches Higher Institute of Technology providing specialist Science, Technology, Engineering and Maths education.
The projects form part of Dudley's planned £1bn regeneration makeover. Various town centres are currently being redeveloped and work recently started on the £449m Wednesbury to Brierley Hill Metro extension - predicted to bring up to 30 per cent more permanent jobs into the local area.
Boasting world-class tourist attractions and natural open spaces, Dudley is perfectly located in the heart of the UK with excellent road, rail and air transport links and connections.
Councillor Patrick Harley, Leader of Dudley Council, said "We are really excited about Dudley's future.
"Significant regeneration activity in Dudley has already begun and there are lots more ready-to-go opportunities we want to discuss with real estate professionals looking for cost-effective and high-return investments.
"But the icing on the cake will be the major announcement we will be making at our event on Thursday 12 March. This is set to completely transform Dudley, the historic capital of the Black Country.
"The time is most definitely now to invest in Dudley."
The Invest Dudley team will be located in the Palais des Festivals (exhibition stand no. P-1.C 2) at MIPIM and will also have a presence in the Midlands UK pavilion (Stand C.16D).