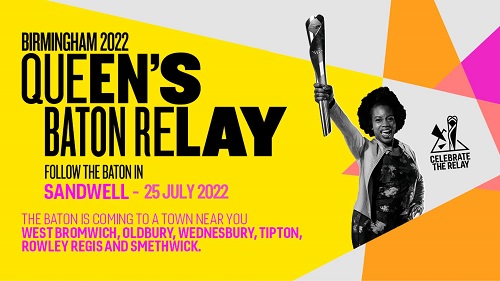 In Summary
The Queen's Baton Relay is coming to each of Sandwell's six towns on Monday 25 July, and you can experience the buzz of the day by booking free tickets for six special events along the route.
In Detail
Sandwell is one of only a few areas in the country to have the privilege of hosting the Queen's Baton Relay for a full day. More than 100 inspirational Batonbearers will be carrying the Baton in Sandwell.
Interested parties are asked to pre-book a free ticket here for one of the six special Queen's Baton Relay events by the organisers, so that they can control numbers.
The events are:
Sandwell Council House, Oldbury: Event: 7am-9am (Queen's Baton Oldbury Relay Leg: 8am-8.32am*) The special events for the Queen's Baton Relay in Sandwell will kick off at Sandwell Council House, with a launch celebration, including performances before and after the arrival of the Queen's Baton, and Commonwealth literature-themed activities for all ages.
Brunswick Park, Wednesbury: Event: 8.30am-11am (Queen's Baton Wednesbury Relay Leg: 9.24am-10.07am*) The Queen's Baton will be welcomed at Brunswick Park with a showcase of community stalls celebrating Wednesbury, and performances of music, art, dance, and culture from children and young people.
Victoria Park, Tipton: Event: 10am-2pm (Queen's Baton Tipton Relay Leg: 11.02am-11.39am*) The Queen's Baton will stop at Victoria Park, Tipton, with sporting activities throughout the day for Sandwell residents to take part in, and a celebration of Sandwell sports groups.
Haden Hill House, Cradley Heath: Event: 11am-2pm (Queen's Baton Rowley Regis Relay Leg: 12.20pm-1.39pm*) The Queen's Baton will stop at Haden Hill House for a celebration of Commonwealth stories from Sandwell residents and community groups
Lightwoods House, Bearwood: Event: 1pm-4pm (Queen's Baton Smethwick Relay Leg: 2.55pm-4.24pm*) The Queen's Baton will stop at Lightwoods House and Park, with a celebration of food from Sandwell, including Forge Mill Farm Welly to Belly food activities.
Sandwell Valley, West Bromwich: Event: 4pm-9pm (Queen's Baton West Bromwich Relay Leg: 5.36pm-7.15pm*) The Queen's Baton Relay will end with a parade from West Bromwich through Dartmouth Park, representing Sandwell community groups and residents, arriving at a festival of celebration with performances, fair activities throughout the evening at Sandwell Valley Showground.
There are also a number of streets where you can watch the Baton being carried and cheer on Batonbearers. Go to www.visitsandwell.com/whats-on/queensbaton for details of the full route, including links to maps, information on rolling road closures and frequently asked questions.
*The timings above for each town's Relay Leg show the estimated start and finish time for when the Baton will be in each town – including both the street and event sections of the relay route.
The Queen's Baton Relay events on the 25 July will showcase and celebrate the best of Sandwell. There will be performances, culture and sports from community groups, artists, performers, schools and residents.
Councillor Laura Rollins, Sandwell Council's cabinet member for leisure and tourism, said: "Excitement is really building now for the Birmingham 2022 Commonwealth Games.
"It's a real privilege that Sandwell will host the Queen's Baton Relay for a full day and we have some great events and entertainment lined up, so I would urge people to book their free tickets and join us for a very special day. It's a great opportunity to celebrate Sandwell and cheer on Batonbearers who are an inspiration to us all."