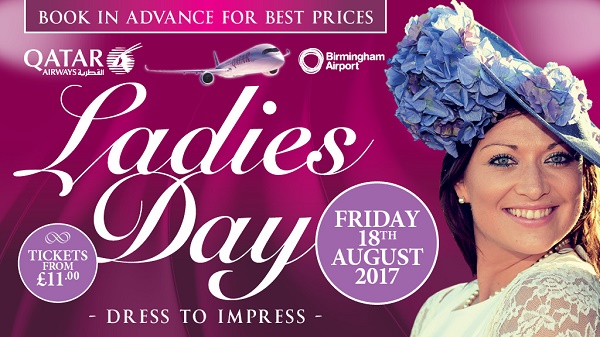 In Summary
A day of glitz and glamour at the racecourse, proudly sponsored by Qatar Airways and Birmingham Airport
In Detail
A day of glitz and glamour at the racecourse, proudly sponsored by Qatar Airways and Birmingham Airport.
On Friday 18 August 2017, dress in your finery for an evening at the races. The event features best dressed competitions, a full card of racing, and live music for hospitality guests to enjoy.
The Summer Dreaming band will take you to a time of soda shops, jive and high school hops, with a highly engaging roller coaster of 50's, 60's & 70's fun and frolics with tunes like 'Run around Sue', 'Do you Wanna Dance' & 'The Locomotion' .
Summer Dreaming will be performing in the Ringside Restaurant after racing along with the DJ until approximately 9:00pm.
Meet and mingle with the popular Steve Arnold aka Ashley Peacock off Coronation Street.
There will be a number of prizes across the race day, including:
2 tickets to the opening night of The Wedding Singer
2 tickets to the opening night of Legally Blonde
Win a Porsche for a weekend.
For more information on the event and packages available to book, visit: http://www.wolverhampton-racecourse.co.uk/whats-on/qatar-airways-ladies-day
Please note ticket prices are FROM £11.00
Gates open at 11am - last race at 5pm.