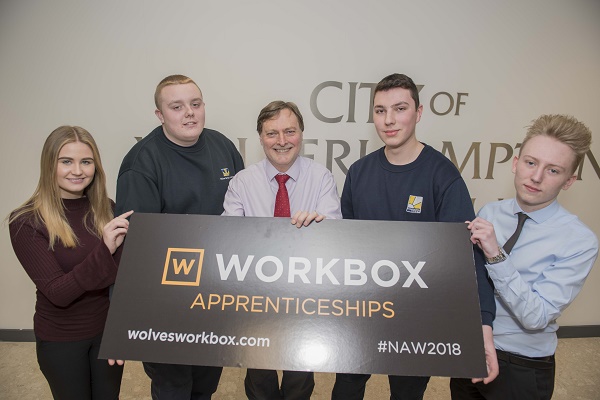 In Summary
General
|
12th March 2018
City of Wolverhampton Council marked the start of National Apprenticeship Week (March 5-9) with a new partnership with Nova Training to boost apprenticeship opportunities in the city.
In Detail
A free, six-week course has been established to help young people aged between 16 and 18 get the skills they need to progress to an apprenticeship, traineeship or study programme.
The course gives participants the opportunity to explore different vocational sectors, meet employers, attend apprenticeship surgeries, work in small groups, get one-to-one support when required, and access dedicated support from a range of City of Wolverhampton partners.
Councillor John Reynolds, Cabinet Member for City Economy, said: "We are delighted to announce this new partnership with Nova Training.
"The course is a great way to prepare people for the world of work and kick-start their careers.
"We work closely with city partners to develop apprenticeship opportunities across the city and there are hundreds of apprenticeship opportunities on offer.
"The council itself employs a number of apprentices in a variety of departments and it has proved a very successful way to recruit staff."
The courses will take place at Nova Training bases on Bushbury Lane, Wolverhampton, WV10 9TT; First Floor, Chancel Court, 2 Wellington Road, Bilston, WV14 6AA; and 3 Lower Lichfield Street, Willenhall, WV13 1PX.
Access to financial and travel support is available if participants are eligible.
Nova is offering completion of course and progression to apprenticeship, further study or traineeship bonuses to all candidates (to be paid after qualifying periods).
Anyone interested in the six-week courses at Nova Training should contact Sulman Shah at sulman.shah@wolverhampton.gov.uk or call 07773 194407.
Further to the new partnership with Nova Training, the council has teamed up with University of Wolverhampton and City of Wolverhampton College Skills to organise a Skills & Apprenticeship Show as part of this year's city Residents' Programme.
It will take place on Tuesday, March 27, between 4pm and 7pm, at Wolverhampton Racecourse.
It is a chance for city residents of all ages to discover jobs with training, meet employers, get career advice and guidance, and join in with have-a-go activities.
You can book your place at www.skillsandappshow.eventbrite.co.uk or find out more at www.wolvcoll.ac.uk/events.
The Skills & Apprenticeship Show is just one of a range of free events taking place in the city from Wednesday 14 to Saturday 31 March to support local people to get support with living, learning and working in the City of Wolverhampton. For more information please visit www.livelearnworkwolves.com.
Image caption (L-R): Georgia Smith, City of Wolverhampton Council business administration apprentice, Ryan Whitehouse. Wolverhampton Homes electrician apprentice, Cllr John Reynolds, Fahrudin Dergic, Wolverhampton Homes plumber apprentice, and Ben Jones, City of Wolverhampton Council social media and business administration apprentice