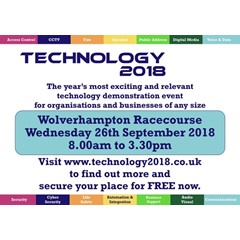 In Summary
26th September 2018
|
08:00 to 15:30
Protecting your premises, people and property - a FREE business technology event sponsored by Thompson Group
Add To Calendar
In Detail
Technology 2018 is a FREE to attend business technology demonstration event being held at Wolverhampton Racecourse on Wednesday 26th September 2018 for businesses and organisations across the Midlands and beyond.
The event brings together World leading business technology specialists and service providers under one roof; allowing visitors hands on access to the very latest security, life safety, audio visual and commercial office systems, and to discover the operational and financial benefits available to businesses of any size and operating in any sector.
Part of Wolverhampton Business Week 24th - 28th September 2018 there will be:
Product demonstrations
Integrated technologies
Unified communications
Life safety systems
Or visit www.technology2018.co.uk for more information.
Location
Wolverhampton Racecourse, Gorsebrook Road, Wolverhampton, UK