Investment in Midlands Automotive
---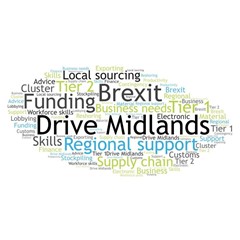 In Summary
26th February 2019
|
08:00 to 10:00
With the Brexit deadline fast approaching, the lack of certainty and information available is causing widespread confusion and halting investments within the sector.
Add To Calendar
In Detail
Drive Midlands and the Department of International Trade are hosting three exclusive Investment in Midlands Automotive events from 26th February - 28th February at three different locations across the Midlands.
The morning events will give you the opportunity to build your connections and network with people within the industry, hear presentations from exclusive keynote speakers and find out more about the changes to Drive Midlands.
The confirmed dates and venues for these events are:
Tuesday 26th February - Wolverhampton Racecourse
Find out how Drive Midlands can support you as a Midlands organisation and help to grow your presence in the Automotive Supply Chain, along with signposting to funding opportunities, providing data on the capabilities within the region and aligning your business needs.
Wednesday 27th February - Scarman Warwick Conferences
Hear from Lawrence Davies MBE, former Purchase Director of General Motors who will give a unique insight into the future of the automotive industry in the Midlands.
Thursday 28th February - Horiba Mira
Discover how working with industry and government, Drive Midlands aims to help develop a robust local supply chain, increase local sourcing levels at Tiers 1 and 2 and improve coordinated working across the entire Midlands area.

Location
Various locations as above