Heathrow Business Summit - Midlands, Birmingham 2018
---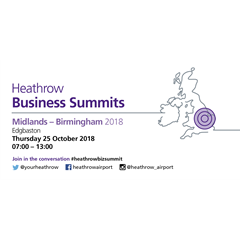 In Summary
25th October 2018
|
07:00 to 13:00
On Thursday 25 October Heathrow will host its Midlands Business Summit which will give Midlands SME businesses the chance to meet its supply chain **MEET THE BUYER**
Add To Calendar
In Detail
In 2018, Heathrow will host a series of Heathrow Business Summits across the UK, including the Midlands in Birmingham on Thursday 25th October 2018, which will give Midlands SME businesses the chance to have free 10 minute face-to-face appointments with Heathrow's supply chain in a one day event taking place at Edgbaston Stadium, 07:00 – 13:00.
Heathrow is committed to using its position as a national asset for the particular benefit of SMEs around the country - as committed to in Heathrow 2.0, Heathrow's plan for Sustainable Growth.

Our goal is to enable more and more UK SMEs to connect to new opportunities for growth locally, nationally and internationally. Through the Heathrow Business Summit we are working to connect SMEs with each other, with the airport, and, through the airport, to the world.
In 2018, Heathrow will host a series of Heathrow Business Summits across the UK, including the Midlands. These events provide a unique opportunity for SMEs to connect and trade face to face with other SMEs, Heathrow's supply chain and in partnership with the Department for International Trade, explore exporting opportunities.
The airport spends up to £1.5bn annually with more than 1,400 suppliers from around the UK and there will be more work on the horizon with expansion. Construction of the runway would be the UK's largest privately-funded infrastructure project and small and medium-sized businesses will be critical to delivering the £14bn investment.
Why Attend?
The Heathrow Business Summits each provide a great platform for SMEs to get a foot in the door and capitalise on the business opportunities available at Heathrow
Promote your business to Heathrow's supply chain through face-to-face appointments on the day
Meet and network with other businesses visiting the event.
Meet with the Department of International Trade to explore exporting opportunities
Meet and network with exhibitor partners including the Local Councils, Chambers of Commerce, Local Enterprise Partnerships, and UK Trade and Investment.
Meet local colleges and universities to support your skills and recruitment needs.
All exhibitors actively support and guide businesses on how to connect and build trade relations into new supply chains at Heathrow.
**This event is limited to one delegate per organisation**
We also recommend that you check the list of supply chain opportunities on the link above before requesting your 121 appointment - your good/services must fall into each of the suppliers required categories.
To see who will be there from the supply chain please click here
Visit: www.heathrowbusinesssummit.co.uk/ for more information or book your place below.
Location
Warwickshire Suite, Edgbaston Stadium, Edgbaston, Birmingham B5 7QU