Digital Series: Black Country
---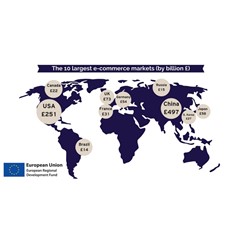 In Summary
6th September 2018
|
09:00 to 12:30
An event to find online market places and reach over £2bn consumers online around the world - 2 DAY EVENT
Add To Calendar
In Detail
An event to find online market places and reach over £2bn consumers online around the world.
This will be split into separate events:
Thursday 6 September: Reaching a global audience: SEO and International E-Market Places
Thursday 20 September: Online Advertising
This event is funded by West Midlands Chambers of Commerce's ERDF SME International Growth Project and attendees are required to complete and submit a simple online form unless your firm has done so already.
To attend you must be an SME registered within the West Midlands.

Location
Black Country Chamber Of Commerce, Glaisher Drive, Wolverhampton WV10 9TG